Introduction
Lunch with sea view from Lipari, Aeolian islands?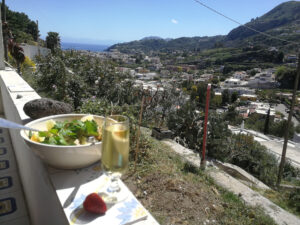 View from terrace with Sicily at the horizon, 20 km south
Wintertime stay
Staying with us, wintertime from September to June, you can make long walks and trekking on Lipari, Alicudi, Salina and Stromboli.
Read about winter/summer trekking below
The house has pellet oven (in the green rooms , red room and in the single sleeping room with shower area) and wood oven (in the red room). See photos below.
Summertime stay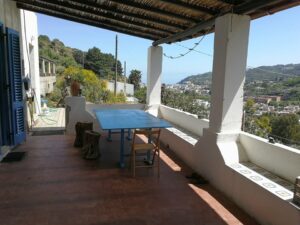 The house is seen from Google maps ( Click here ).
House view from mount Gallina: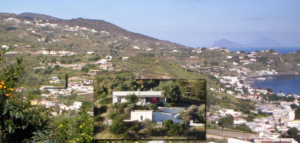 Being 50 meters above the sea level in a countryside/rural area outside the village, you can be in our house even with 30-40 Celsius. It never become so hot as in the village.
The house has thick walls and AC in two sleeping rooms. This helps us to keep a good climate also inside.
Rural position implications
But the rural area position of the house have a few implications that makes us recommend this house for guest who are
used to save water

and use bidè shower.
This is how you are welcomed to a new day at Casa svedese.
Then we have our garden that also offer refreshment.
Read more about the garden shadow below.
Index
House history
The house is a typical Aeolian house. It originally belonged to a farmer who emigrated to Australia in the 1950s.
The house was in a state of neglect when it was bought by a Swedish family in 1967. The ruin was rebuilt and made habitable.

In 1974 a family member, artist, dancer and painter settled there.

In 2019 it was renovated and extended.
The house today consists of two apartments, the first of three rooms, bathroom and kitchen.
The second, a single room apartment with bathroom.
Around the house there is a large terrace and a garden of about 2000 square meters.
.
Prevention. health measures
The owner is senior, takes flue vaccine every year, follows security measures (mask etc, when needed) and has succeded so far to avoid covid. The owner does not want to expose the guests riscs. For this reason, the owner follows airbnb safety procedures between guest stays, in addition to local laws and guidelines.
.
The House – presentation
The house is surrounded by gardens and is located on the border with the countryside of the Vizzina district. Due to its location and lack of proper road, heavy vehicles such as water and purge trucks have no access. Municipal water arrives via the water mains and fills the house's tanks only on weekends.
As already said in the introduction, our house suits therefore for guests who are used to saving water and have no problems trying e.g. washlet or bidè shower that is often used in Japan and Scandinavia.
The house inhabitants are asked to:
Avoid water waste and recycle rinse water,

avoid as much as possible throwing toilet paper in the WC
(read more under WC information.

Do not leave dirty metal and plastic with organic.
Read more in House recommendations below.
Proximity to historical center
It is located 50 meters above the sea, about 1 km from the hydrofoil and boat harbor. From the house you reach it by walking in 20 minutes.
With a scooter from the house, you reach the harbor in 5 minutes, Canneto beach in 15 minutes.
Parking area for small cars, like Fiat Panda or Punto.
All rooms have mosquito net at windows and doors.
The guest house has three rooms with place for 5 guests with AC (deumidifier mode is recommended), WIFI (AIrmax 5G) and satellite connected television:
Red r

oom
it has a kingsize, 3 seat sofa bed. with silent AC and connection to WC

Here you can sleep as and/or eat dinner rainy/cold days.

Mosquito nets on window and door to terrace.
Green room
Has a kingsize bed with silent AC, TV and pellet oven.
Mosquito nets on window and door to terrace.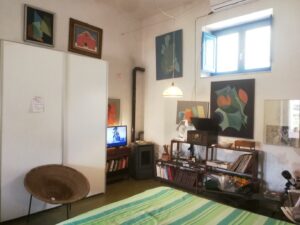 Sleeping room with training and shower area
Has a single bed, combined with shower area, training tools and pellet oven. No AC here!
Mosquito net on window and door to terrace.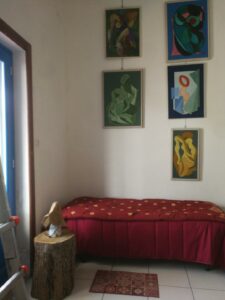 .
WC without bidè.
As said in recommendations we ask our guests to avoid throwing toilet paper in the WC.
"While water washes the feces thoroughly, tissue paper tends to move it along direction of wiping". ( read more )
A bidè requires more space and separate disinfection. In Sweden bidè were removed in the 60s.
Restructuring the house 2021, the owner has therefore chosen to follow the Scandinavian model, removing the bidè. The Japanese model of Washlet were nowhere to be found at that time. ( https://en.wikipedia.org/wiki/Washlet ) Whaslets has however the disadvantage that you can not control the direction of the shower.
For women it is recommended to spray with the hand shower from front to back. This can instead be done with a bidè shower. So the owner choosed instead to install bidè showers in the house WC.
.
Shared kitchen and terrace area
If you want to save money and do some cooking in the house.
The is possibility to cook inside and on the terrace.
You get access to a full furnished kitchen with sink (not seen in the photo), microoven, Water boiler, induction cooker, friezer and frigerator.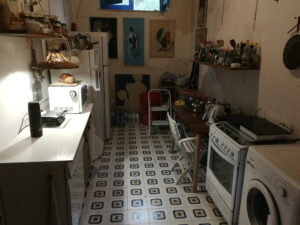 On the shared terrace areathere is an induction cooker, a gas grill and a dining table, available for you.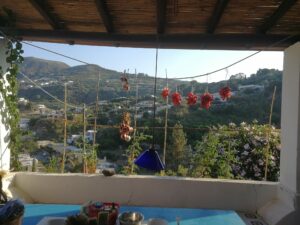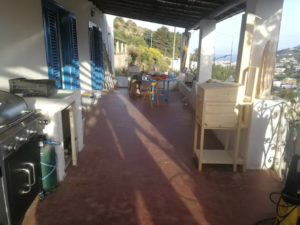 .
House recommendations
We have explained about the Rural area house position and its implications in the House presentation above,
We ask our guests to follow these tips:
Avoid as much as possible use of toilet paper, using instead the bidè shower and drying with household paper.

Do not let the water run while soaping in the shower.

Make sure that rinsing water in the kitchen, shower and bathroom can be recycled.
Rinsing water is used to:

soak dishes,

rinse plastic and metal (to not invite ants and cockroaches)

watering plants and trees.
Please ask the owner any question or about a special need you have.
The owner of the house, helps you:
wash dishes if you request help with it.

take care of the rinse water to water plants and trees.
.
Garden access
The house is actually a kind of agriturismo. But we have no animals bigger that bees.
If you do not want to relax on our terrass when you are our guest at Casa svedese,
you are welcome to be in our big garden and relax in the shadow of our apricot and lemnon trees or why not?
take and enjoy among others:
vegetables, like lettuce and squash (not in August),

Wild plants like:

Borago officinalis (Winter and spring)
ficus indica (in July, August),


Aubergine (not during 2022)

Beans (in June, July),

Cherry tomatoes (in July, August),

Apricot (in June),

White Grapes (In august),

Potatoes (in December and June,July),

capers (May-July) you take with you back home.





Each caper has a spine! We teach you how to harvest these.




Lemons (all year)



and clementines and oranges (December-February).

The garden has plenty of rosmarine and Laurus nobilis (all year).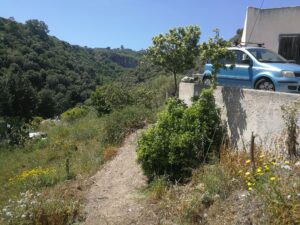 Guestbook
Check our gallery with 8 images of our 65 guest greetings.
Click on the image below to get a zoom in.

.
Solarium
We are not allowed to have a swimmingpool. Only hotels can build these.
But we have a solarium with a nice bath tub, that you may enjoy during the day. Ideal for small children and playground area. Photo will be added in June when the dressing cabin has been painted.
The solarium dressing cabin is used as sauna wintertime.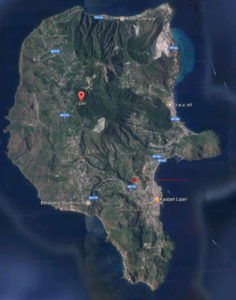 My name is Stellan Kinberg. I am a retired K9 teacher and the son of the artist who once lived in this house. I live here permanently since October 2018. I am known here with the name Stellario.
You can find me in Facebook or in my site http://stellan.kinberg.net
.
Trekking
A trekking site
A guest of casa svedese, found a great site with a pdf describing 10 paths published in 1979.
These are trekkings that can be done by combining a bus trip from Lipari.
Click here to download the pdf.
European trails
The same guest also informed me about the Komoot app which is on komoot.com. now has an excellent Trailview page for now with itinerary to the creator of Vulcano marked with recommendations and comments from others who have climbed.
Or maybe have Lipari as a launch island to make a great car tour on Sicily.
Check this Sicily tour description we did October 2019