Introduction
Lunch with sea view from Lipari, Aeolian islands?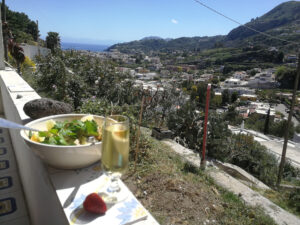 View from terrace with Sicily at the horizon,20 km south
Wintertime on Lipari?
Staying with us wintertime from September to June, you can make long walks and trekking on Lipari, Alicudi, Salina and Stromboli.
Or maybe have Lipari as a launch island to make a great car tour on Sicily.
Check this Sicily tour description we did October 2019
Summertime on Lipari?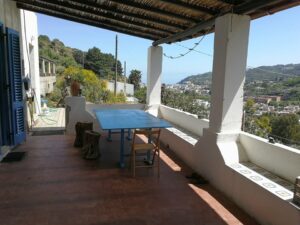 Being 50 meters above the sea level in a countryside area outside the village, you can be in our house even with 30-40 Celsius. It never become so hot as in the village.
The house has thick walls and AC in two sleeping rooms. This helps us to keep a good climate also inside.
Then we have our garden that also offer refreshment.
Read more about the garden shadow below.
Index
House history
The house is a typical Aeolian house. It originally belonged to a farmer who emigrated to Australia in the 1950s.
The house was in a state of neglect when it was bought by a Swedish family in 1967. The ruin was rebuilt and made habitable.

In 1974 a family member, artist, dancer and painter settled there.

In 2019 it was renovated and extended.
The house today consists of two apartments, the first of three rooms, bathroom and kitchen.
The second, a single room apartment with bathroom.
Around the house there is a large terrace and a garden of about 2000 square meters.
This is how you are welcomed to a new day at Casa svedese.
The House
The house is seen from Google maps ( Click here ).
It is located 50 meters above the sea, about 1 km from the hydrofoil and boat harbor. From the house you reach it by walking in 20 minutes.
With a scooter from the house, you reach the harbor in 5 minutes, Canneto beach in 15 minutes.
Parking area for small cars, like Fiat Panda or Punto.
All rooms have mosquito net at windows and doors.
The guest house has three rooms with place for 5 guests with AC (deumidifier mode is recommended), WIFI (AIrmax 5G) and satellite connected television:
Livingroom were you can sleep as it has akingsize, 3 seat sofa bed. with silent AC and connection to WC.

sleeping room 1
with kingsize bed with silent AC
Sleeping room 2
with a single bed, combined with shower area and training tools.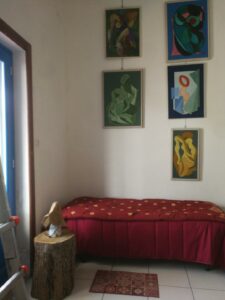 .
Kitchen access
If you want to save money and do some cooking in the house, you can get access to a full furnished kitchen with sink (not seen in the photo), microoven, Water boiler, two induction cooker, friezer and frigerator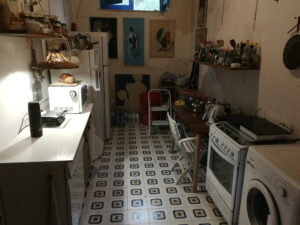 .
Garden access
The house is actually a kind of agriturismo. But we have no animals bigger that bees.
If you do not want to relax on our terrass when you are our guest at Casa svedese,
you are welcome to be in our big garden and relax in the shadow of our apricot and lemnon trees or why not?
take and enjoy among others:
vegetables, like lettuce and squash (not in August),

Wild plants like:

Borago officinalis (Winter and spring)
ficus indica (in July, August),


Aubergine (not during 2022)

Beans (in June, July),

Cherry tomatoes (in July, August),

Apricot (in June),

White Grapes (In august),

Potatoes (in December and June,July),

capers (May-July) you take with you back home.

Each caper has a spine! We teach you how to harvest these.


Lemons (all year)



and clementines and oranges (December-February).

The garden has plenty of rosmarine and Laurus nobilis (all year).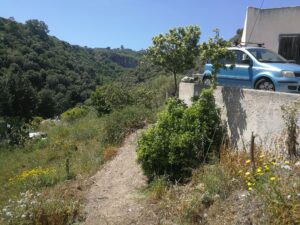 Guestbook
Check our gallery with 8 images of our 65 guest greetings.
Click on the image below to get a zoom in.

.
Solarium
We are not allowed to have a swimmingpool. Only hotels can build these.
But we have a solarium with a nice bath tub, that you may enjoy during the day. Ideal for small children and playground area. Photo will be added in June when the dressing cabin has been painted.
The solarium dressing cabin is used as sauna wintertime.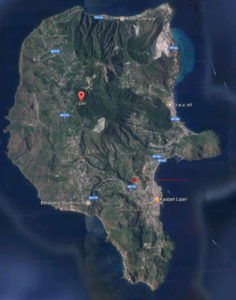 My name is Stellan Kinberg. I am a retired K9 teacher and the son of the artist who once lived in this house. I live here permanently since October 2018. I am known here with the name Stellario.
You can find me in Facebook or in my site http://stellan.kinberg.net