INTRODUCTION
Do you want to burn fat? You probably know that walking is the best for that. Running especially on asphalt and concrete,is bad for your ligaments, cykling is better but these burn, first of all, blood sugar.
The Aeolian islands, especcially Lipari and Salina, are great for trekking and long walks, that during autumn and spring. Also wintertime, from December to March are good time for walks maybe with umbrella or water resistant and wind protecting clothes

Winter bath.
You can also take refreshing baths wintertime. The lowest water temperature is 13 celsius in February (Source: Aldo Cicala). But 2021, I took a bath February 13 (!) in Valle Muria on the west side, enjoying the view of Etna erupting. 18 celsius in the water. It was incredible.
I use to take a New Years Eve bath on the west coast of Lipari if it is sunny and not to much wind.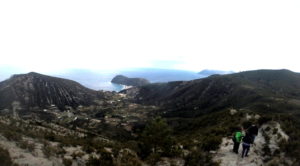 There are two groups organizing trekking on the islands: Nesos and Greens.
if you come to the Islands take care to read my page about traveling the Islands.
NESOS
You find info about nesos in http://www.nesos.org/
GREENS
You find them in their facebook group
https://www.facebook.com/groups/191286964682352/
Photos from trekking made in December and January
They organize trekking on Lipari every week.