INTRODUCTION
Do you want to burn fat? You know that walking is the best for that. Running is bad for your ligaments and does not help you much to burn fat.
The Aeolian islands, especcially Liapri are great for that wintertime, Lipari is ideal for long walks, trekking and visiting sites.
You can also take refreshing baths wintertime. The lowest water temperature is 13 celsius in February (Source: Aldo Cicala). I use to take a New Years Eve bath on the west coast of Lipari if it is sunny and not to much wind.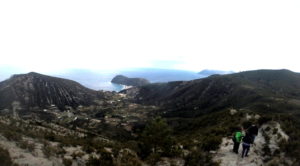 There are two groups organizing trekking on the islands: Nesos and Greens.
if you come to the Islands take care to read my page about traveling the Islands.
NESOS
You find info about nesos in http://www.nesos.org/
GREENS
You find them in their facebook group
https://www.facebook.com/groups/191286964682352/
Photos from trekking made in December and January
They organize trekking on Lipari every week.